April 24, 2021
Over 60 of Decatur Middle School's gifted students enrolled in the Future City class competed in the first virtual Future City Competition held in January.
Team "Spacebusters", a 7th grade team from Decatur Middle School, was 1 of 3 teams recently chosen to be featured in Discover Engineering & DoGoodery's six episode Future City Competition WebSeries. In addition to virtual interviews, the team documented their project progress and collected footage over the course of their project. Episodes can be found at: https://sites.google.com/dcs.k12.al.us/futurecity2020/home.

Future City is a gifted elective (grades 7-8). This year DMS gifted students set a school record sending five teams to compete. Three 7th grade teams (Spacebusters, Milky Way, Dust City) and two 8th grade teams (Big Brain Theory & Nuova Luna) competed.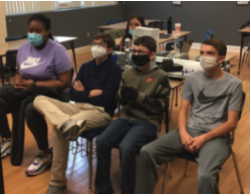 The following teams were recognized and awarded:
"Nuova Luna" (gr. 8) won the Association of Energy Engineers (AEE) "Energy Efficiency Award" for most effective solutions to minimize energy use and promote innovative designs within their city.

"Milky Way" (gr. 7) won the American Society of Civil Engineers (ASCE) – Alabama Section "Best Use of Sustainable Infrastructure" for the city that best utilizes the concept of sustainable infrastructure design for elements such as, roads, bridges, pipelines, railways, airports, dams, levees, landfills, water treatment systems and other components of the built environment.

Big Brain Theory (gr. 8) won the National Council of Examiners for Engineering and Surveying (NCEES) "Best Land Surveying Practices" for the design that employs the best land surveying practices, taking into consideration the high standards used by surveyors to help protect the public's safety and welfare.